Author: Nadav Pass (2019)
R&D Department 
Hishtil's R&D department is involved in a variety of areas, including:
Plants acclimatization.
Developing of new product lines.
Joint research projects with academic institutions.
Intellectual Property Management.
Cooperation with companies in the horticultural field.
Agro- Technological applications development.
Knowledge management to support the professional needs of subsidiaries and partners.
Developing agro-technics to improve nursery productivity and meet product specifications.
Nursery solutions through the use of variable propagation materials such as tissue cultures, cuttings, and seeds.
Industrialized production of seedlings of new species and grafted young plants – compatibility and impact of the nursery production process on field establishment.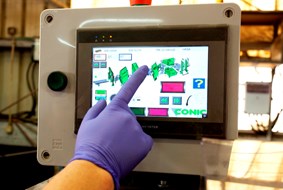 The process of introducing new plants and product lines includes the examination of dozens of new species and plants, derived from various sources in Israel and around the world. The list of plants intended for introduction is approved by a professional forum that examines the candidate plants and classifies them into an annual list. The process is managed by advanced information systems operating in the organization, enabling the management of operations and the necessary documentation.
New Agro-Technological applications are mostly performed and tested in response to various needs, such as:
Labor (Employee) savings by machinery and automation solutions.
Energy savings.
Water quality.
Environmental protection.
Plant protection and IPM.
Upgrading climate control systems, irrigation, and water treatment systems, fertilizers and sanitation.
The new applications are being tested in one of Hishtil's production sites and are integrated, following the trial stages within the production processes in the various company sites in Israel and around the world.
The new product and product line development processes are accompanied both by external experts and by Hishtil's management. In case of a need for cooperation in order to develop an application, the R&D team works together with relevant external partners towards the promotion of new ideas.